Many investors today feel caught between a rock and a hard place. They want the security that fixed-rate investments can offer, yet still seek the potential high performance of equities. If a portfolio is left to depend upon an unmanaged buy-and-hold strategy, its value is at the mercy of the market.

• Portfolio Strategies offers a managed alternative to buy-and-hold.
• Client accounts are actively managed and monitored on a daily basis.
• The manner in which our programs approach risk management is what gives each its own, independent character.

We encourage your interest and welcome the opportunity to discuss the importance of active, professional money management with you, as it applies to your own investment objectives. Please address this with your account representative or call us directly at (253) 383-1676 or (800) 959-2001.





Our History

Portfolio Strategies owes much of its current success to the founding philosophy of Carl Kludt, a career investment professional who subscribed to the apparent paradox that losses were more important than gains. Carl believed that higher long-term returns could be achieved when investors pay as much attention to minimizing losses in declining markets as they do to maximizing gains during rising markets.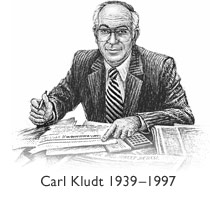 Time has confirmed Carl's original premise. From the company's humble origins in 1982, PSI has grown to a national presence while still retaining the personalized attention given to each client and account.

"Because our first investors were all friends and personal contacts, we built a company that behaved as a friend would: trustworthy, respectful, and there for you when times turned rough," says Les Cathersal, PSI President.

Les became a partner in 1984 and took an active role in helping PSI grow both financially and in the values and vision it sought to reflect as a company.
Meanwhile, since 1991, mathematician and actuary Bill Whatmough had been practicing his own variant of an investment method known as dynamic asset allocation, with excellent results. Bill's philosophy of risk management meshed perfectly with Carl's. In 1995, Bill became a partner and PSI began exploring new territory in the field of money management.

Although Carl passed away in 1997, his dedication, character, and intellect have continued to inspire both those who knew him in life, and those who have come to know him through his achievements. "Carl's open embrace of new ideas and his continual search for better methods helped shape our vision," says Les. "His principles still guide us today."

Beginning in the late nineties, PSI entered a new era of strong and sustained growth. David J. Jajewski and John Williamson came aboard as managing partners, flanked by a growing national network of professional field representatives and specially-trained support staff.

PSI now offers a diverse range of investment options including managed programs, annuities, pension plans and 401(k) accounts for individuals, corporations, non-profit institutions, and endowments.